The Toronto-based company was established by a group of local ballet enthusiasts who, by the late 1940s, were inspired in part by the example of Britain's Sadler's Wells (later Royal) Ballet to found a similar "national" company for Canada.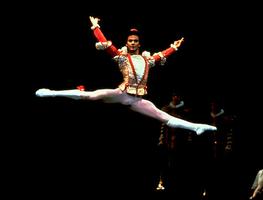 Jeremy Ransom (courtesy National Ballet of Canada).
Artists of the ballet in A Delicate Battle in 2006 (photo Cylla von Tiedemann, courtesy National Ballet of Canada).
National Ballet of Canada
The National Ballet of Canada, founded in 1951, is a classical ballet repertory company that presents a very wide range of choreography, from the 19th-century classics and masterworks by later choreographers to newly commissioned ballets. Although it remains Canada's largest ballet troupe, the scale of its operations has fluctuated historically according to its financial resources. It began with about 30 dancers and grew in the late 1980s to more than 70 dancers, but by 1996 had been forced to downsize to fewer than 50. In 2010 it numbered 60 dancers.
The Toronto-based company was established by a group of local ballet enthusiasts who, by the late 1940s, were inspired in part by the example of Britain's Sadler's Wells (later Royal) Ballet to found a similar "national" company for Canada. The fact that the then-Winnipeg Ballet, founded in 1939, had enjoyed great success at 2 Canadian regional ballet festivals and was already touring the country added a competitive spur to the Toronto group's endeavours. Although Boris Volkoff already had a promising troupe in Toronto and might have accepted the challenge of leading a better-resourced local company, he was passed over in favour of Celia Franca, a gifted dancer, ballet mistress and emerging choreographer imported from London. Franca became the NBC's founding artistic director. During her 23-year tenure the company acquired the overall character it retains to this day with its roots in ballet classicism but a commitment to embracing its contemporary evolution. In 1974 Franca passed her directorship into the hands of her close associate, David Haber, with the hope of retaining an artistic role within the company. However, when Haber was ousted less than a year later, Franca largely severed her formal connection with the NBC and moved to Ottawa.
Despite its title, the company never received an official "national" mandate. Franca and her board of directors decided independently to give the company a national base by drawing its dancers from across Canada and organizing extensive Canadian tours. Franca believed that only by staging the classics could the dancers be properly developed and finally judged by internationally accepted standards of excellence. Franca staged many of these traditional works herself. The National Ballet School, founded by Franca in 1959 and led for many years by Betty Oliphant, has played a major role in helping the company achieve international dancing standards.
Though the company was plagued by financial problems in its early years, it became a major North American touring company. In 1972 it made the first of several tours in Europe and has since also toured Asia. In 1964 it adopted the 3200-seat O'Keefe Centre (now the Sony Centre) in Toronto as the venue for its lengthy fall, winter and spring hometown performances. The company expanded the scale of its productions to suit this new home and the network of large, well-equipped theatres that were built across Canada during the 1960s.
The NBC's popular identity is still largely defined by lavish productions of such traditional evening-length story ballets as Giselle, La Fille mal gardée, Coppélia, Swan Lake, The Sleeping Beauty, Don Quixote and The Nutcracker. It has periodically added full-length narrative ballets by 20th-century choreographers, most notably John Cranko, whose productions of Romeo and Juliet and Onegin have become NBC staples.
Just as importantly, the company has also performed a rich repertoire of shorter works offered in mixed programs. Over the years it has presented ballets - mostly restagings but occasionally original works - by such notable choreographers as Michel Fokine, George Balanchine, Frederick Ashton, Antony Tudor, Jerome Robbins, John Cranko, Kenneth MacMillan, William Forsythe, John Neumeier and Glen Tetley.
The NBC has commissioned new works from both Canadian and foreign choreographers throughout its history. These have often had their start in company choreographic workshops, although because of cost factors the workshops are now held less regularly than in earlier years. Among the Canadian choreographers whose work has been presented are David Adams and Grant Strate in the 1950s and 1960s, and from the mid-1970s on Anne Ditchburn, Constantin Patsalas, John Alleyne, Robert Desrosiers, Danny Grossman and James Kudelka.
Apart from Franca, a number of figures have played significant roles in the company's development. Rudolf Nureyev, who first danced with the company in 1965, returned in 1972 to stage his spectacular version of The Sleeping Beauty and is widely credited with having advanced the company's standards of performance, with promoting the careers of such dancers as Karen Kain, Frank Augustyn and Veronica Tennant, and with enhancing the company's international prestige. Alexander Grant, artistic director 1976-83, expanded the performing season, developed many younger dancers, gave opportunities to Canadian choreographers, and significantly enriched the repertoire with the works of his mentor Frederick Ashton and other eminent choreographers. In 1981, controversially yet successfully, Grant mounted North America's first production of the full-length 1842 work Napoli by the great Danish choreographer August Bournonville. Grant was also responsible for introducing Glen Tetley to the company and secured the coveted performing rights to Cranko's Onegin.
Grant's successor, Erik Bruhn, had been closely associated with the company since 1963 as guest artist, teacher and producer/choreographer. As artistic director, 1983-86, he helped give the NBC a more contemporary image and commissioned a wide range of works from modern dance as well as ballet choreographers. After Bruhn's premature death in April 1986, his blueprint for the company's development was pursued by former colleagues Valerie Wilder, who had danced with the company 1970-78, and Lynn Wallis. Wilder and Wallis invited American choreographer Glen Tetley to serve as their artistic associate, 1986-89; he added works to the repertoire in a modern ballet vein.
As artistic director, 1989-96, Canadian-born Reid Anderson shifted the emphasis slightly more towards the pure classics again but, despite the severe difficulties caused by economic recession, maintained the company's creative edge by commissioning many original works from Tetley, Alleyne, Forsythe, Kudelka, Serge Bennathan and others. He cultivated a younger generation of dancers; notably, Martine Lamy, Kimberley Glasco, Margaret Illmann, Serge Lavoie, Jeremy Ransom, Rex Harrington, Robert Tewsley, Yseult Lendvai, Chan Hon Goh and Aleksandar Antonijevic.
One of Anderson's significant achievements was to bring Kudelka back to the NBC after an almost decade-long absence, during which time the former NBC member had gained wide acclaim as a choreographer. Kudelka's 1995 staging of The Nutcracker, replacing Franca's long-serving version, was a major triumph. When Anderson, discouraged by continuing government funding reductions, quit in protest, Kudelka was chosen to succeed him.
It was the first time the NBC had hired a choreographer with a well-established international reputation to be artistic director. Kudelka's creative inclinations set the tone of his entire directorship. He set out to rethink the fundamental concept of what a traditional classical ballet company should be on the brink of a new millennium. Notably, in the company's 50th anniversary season, he convened a gathering of artistic directors of major international ballet companies to discuss both the practical and aesthetic challenges they all faced. This initiative has since been successfully continued under different auspices.
Although financial constraints limited the degree to which Kudelka could pursue his ambitious artistic vision, his achievements were remarkable. He continued to build the repertoire with his own and other choreographers' works, took the company back to New York after many years for a critically acclaimed season in 1998, and worked to maintain the NBC's artistic vitality by nurturing younger dancers. He strengthened his artistic team in 1998 by persuading the company's recently retired prima ballerina, Karen Kain, to serve as artistic associate. However, Kudelka's 1999 decision to drop senior ballerina Kimberly Glasco from the company roster precipitated an unpleasant lawsuit and public scandal that for a time appeared to threaten his directorship. Although Kudelka remained a controversial leader, the triumph of his new production of Swan Lake (1999) and later production of The Firebird (2000) quickly re-established his artistic importance to the company. Although Kudelka's works by no means dominated the repertoire, his personal movement preferences, particularly his subtle musical sense, influenced the manner in which the company performed its entire repertoire.
Kudelka, despite extensions to his contract, often hinted that he would not remain as director indefinitely. The pressure of being an active choreographer and also an artistic administrator eventually became intolerable and in May 2005, after having served longer than any artistic director since Franca, Kudelka abruptly quit but simultaneously accepted a new position as resident choreographer.
Rather than conduct a formal open competition for the vacant post, the company quickly named Kain as Kudelka's successor. Kain has made clear her intention to strengthen the NBC's commitment to its classical roots while continuing to present established masterworks from the international repertoire and commissioning new works. In particular, Kain has supported emerging Canadian choreographers including Matjash Mrozewski, Peter Quanz and Aszure Barton.
In 2006, the decades-long dream of a ballet and opera house for Toronto was finally realized with the completion of the Four Seasons Centre for the Performing Arts. It is the permanent home of the Canadian Opera Company and the performance venue of the National Ballet. Kain acknowledged the company's roots by staging Nureyev's version of The Sleeping Beauty as the first ballet performed at the Four Seasons Centre.
Kain has continued to program classics alongside familiar contemporary works by Balanchine and Robbins, as well as staging the eminent Quebecois choreographer Marie Chouinard's provocative work, 24 Preludes by Chopin. Notably, Kain also commissioned celebrated choreographer Crystal Pite to create Emergence, which won 4 Dora Awards in 2009. The National Ballet performed Chouinard's 24 Preludes by Chopin, alongside the Royal Winnipeg Ballet, as part of the Vancouver 2010 Cultural Olympiad gala.
The National Ballet of Canada remains Canada's largest and most influential dance company.