This article is from our Toronto Feature series. Features from past programs are not updated.
This content is from a series created in partnership with Museum Services of the City of Toronto and Heritage Toronto. We gratefully acknowledge funding from the Ontario Ministry of Tourism, Culture and Sport, and the Department of Canadian Heritage.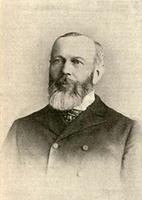 Henry Langley, the architect of the Necropolis Chapel, is buried in the Necropolis cemetery (courtesy McGill University, Blackader Lauterman Library).
Necropolis Cemetery Chapel was built in the High Victorian Gothic style, circa 1955 (photo by J.V. Salmon, courtesy Toronto Public Library/T-33180).
Necropolis Cemetery Chapel, 2012 (photo by James Marsh).
Toronto Feature: Necropolis Cemetery
"Even the Dead Have to Move Sometimes"
In a large and growing city, even the dead are sometimes forced to move to new quarters. When the overcrowded Potter's Field cemetery at Bloor and Yonge streets closed in 1855, families of the deceased were given the option of moving their loved ones' remains themselves or having them transported to the Necropolis, which had been established five years earlier.
Among those relocated were 984 early settlers who can now be found in "The Resting Place of Pioneers" section of the Necropolis.
A wall on the north end of the cemetery highlights a dozen notables buried within its confines, who were honoured for having "served their country and fellow citizens well." Among the names on the wall are Toronto's first mayor William Lyon Mackenzie, journalists George Brown and John Ross Robertson, and rower Ned Hanlan. The first black surgeon to be born in Canada, Dr Anderson Ruffin Abbott, is buried here, while the Patriots of 1837 Memorial monument is dedicated to Samuel Lount and Peter Matthews, who were hung for their roles in the Upper Canada Rebellion of 1837.