This article is from our Toronto Feature series. Features from past programs are not updated.
This content is from a series created in partnership with Museum Services of the City of Toronto and Heritage Toronto. We gratefully acknowledge funding from the Ontario Ministry of Tourism, Culture and Sport, and the Department of Canadian Heritage.
At the Scarborough Museum (photo James Marsh).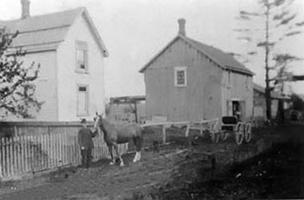 The original Hough Carriage Works, early 19th century (public domain).
The Cornell farmhouse was built for Charles and Matilda Cornell in 1858, originally located north of Eglinton. The Scarborough Historical Society moved Cornell House from there to its present location in 1962 (photo James Marsh).
Toronto Feature: Scarborough Museum
A Snapshot of 19th-Century Town Life in Scarborough
As rural townships gave way to modern suburbs following the Second World War, homes and businesses that stood in the way of progress were often demolished. Such appeared to be the fate of Cornell House on Markham Road north of Eglinton Avenue in the Township of Scarborough. Built by Charles Cornell as a farmhouse about 1858, it housed a piano works when Scarborough threatened to tear it down in 1961 to make way for a railway overpass.
As people began to realize the value of preserving heritage structures for future generations, volunteers and the local Lions Club raised funds to move Cornell House to Brimley Road, where it became the foundation of the Scarborough Museum. Situated within Thomson Memorial Park, the museum sits on land that once belonged to Scottish stonemason David Thomson and his wife Mary, the first Europeans to settle in Scarborough sometime around 1799. Surrounding Cornell House are kitchen and herb gardens, which offer a portrait of the plant life common to early Scarborough, and floral gardens that follow Victorian-era principles of design with a variety of annuals and perennials.
Over the next two decades, two more structures were moved to the museum, as well as a recreation of the Hough Carriage Works, which had stood for many years at Birchmount Road and Eglinton Avenue.